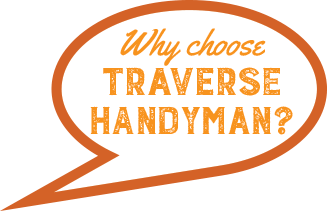 We're Trustworthy

Safe and Friendly Service

We Keep a Clean Jobsite

Local of Traverse City

Fully Insured

Our Workmanship Is Guaranteed
We're the home improvement professionals
Some of our most popular services
Snow is fun when it's not on your driveway.
We offer residential snow plowing
We are familiar with the crazy amount of snow we get in Northern Michigan, so let us deal with it so you don't have to. Traverse Handyman is ready for whatever the Great Lakes can dish out.
Proud to be a local
Servicing the Grand Traverse area
Traverse Handyman operates out of Traverse City, Michigan but has no problem working the surrounding areas. From Suttons Bay to Glen Arbor, if you are 20 miles from Traverse City, Traverse Handyman is excited to hear from you.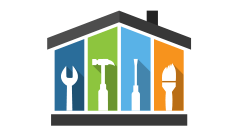 Can't get to those honey-do lists?
Traverse Handyman is here to help
We understand that there isn't enough time in the day to get to all those home improvement projects that have been stacking up. Traverse Handyman is here to help lift that weight off of your shoulders so you can spend more time enjoying your home. No project is too small for this handyman!
We build the right way
Does your household need repairs that are out of your depth? Have no fear, Traverse Handyman is here. Whether it be Interior or Exterior carpentry work, Traverse Handyman is well equipped with cutting edge equipment to tackle any challenge. No matter if it's a simple repair or a full on renovation, our 30 years of experience will make sure it's done the right way the first time.
Framing
Trim Carpentry
Hanging Doors & Lock Repairs
Gutter Replacement
Siding, Fascia, Soffit Repairs
Deck Repair


Leaky Pipes? We're here to help
Plumbing is like the cardiovascular system of your household. Constantly pushing new water in and draining old water out. Upkeep of this system is important to insure it functions properly. Your Traverse City Handyman has the expertise to manage your plumbing needs before the emergency arises.
General Plumbing Problems
Fixing Running Toilets
Fixtures Installed or Replaced
Replacing Damaged Grout
Caulk Resealing
Replacing Bathroom Tile
Don't Get Electrocuted. Call Us
Dealing with anything electrical has the potential for danger not only for the person working on it, but the appliance or system from potential short. Traverse Handyman has the experience and tools to effectively and safely tend to your electrical needs.
Replace Light Switches
Install/Replace Ceiling Fans
Replace Circuit Breakers
Install New Outlets
Install/Replace Exhaust Fans
Replacing Fixtures/Light Bulbs


Up and down & All Around
Why paint yourself and lose all that time with prep and the cost associated with painting equipment when Traverse Handyman is here to do it for you? We welcome any type of painting project as adding new coats of fresh paint breathes new life to any space.
Interior & Exterior
Kitchen Cabinets
Trim/Moulding
Staining and Varnish Finish
Revamp Entire Rooms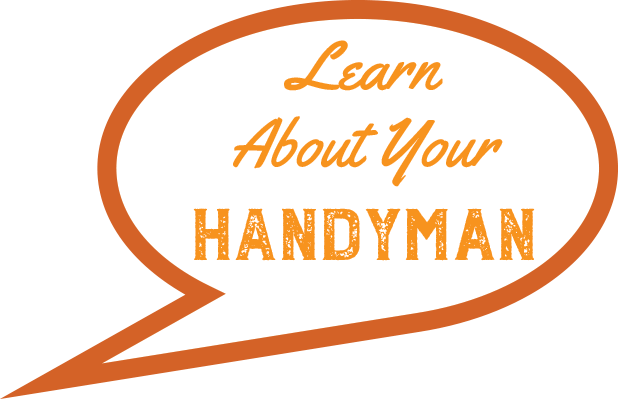 Paul Gaudette
Your Year Round Boots on the Ground Guy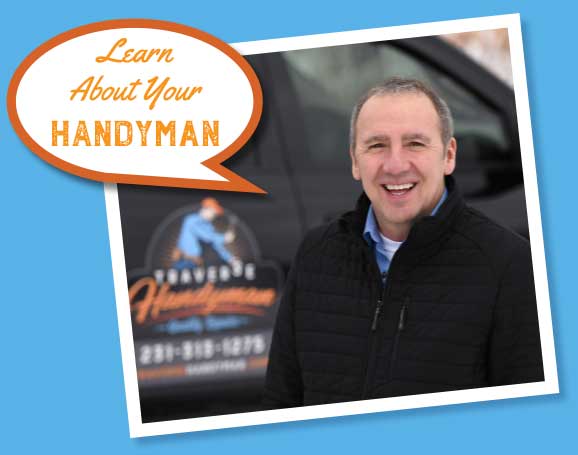 Paul has been working in the trades for over 30 years. Working with each discipline of the trades gives Paul a unique advantage as a handyman. He can look at your home improvement problems with knowledgeable insight on how to get the job done while staying within budget and on an accurate time-line.
As a proud veteran of the Army and the National Guard, Paul learned that the smallest imperfection can result in deterioration of the plan. Home improvement work is similar in the sense that small problems that don't get addressed will end up costing you in the long run. Call Paul today to get the job done, well.
Exterior
Traverse Handyman will gladly take over your outdoor to-do list. Regardless of the task, we are here to provide a service at an affordable rate. We are fully licensed and insured.
Interior
Whether large or small, we can help you with those interior projects and maintenance needs. We offer a full range of interior services including plumbing, electrical, trim and painting.
Contact Us
Let us know how we can help you, drop us a line below and we'll get back with you right away or give us a call at 231.313.1275
We take your personal information very seriously. We will not share any of the information you provide with any 3rd parties. Provided information will be used specifically to contact you in regards to your inquiry.